Terra
Terra is the Italian for Earth and it is the first biodegradable sneaker result of a wise research of materials and components aimed at guaranteeing a low environmental impact and a net reduction in disposal costs.
Terra is a certified metal free and biodegradable leather sneaker that can be disposed of in just 180 days. Its sole, made from the virgin milk of Hevea tree, has a honeycomb structure that guarantees greater flexibility and comfort.
Biodegradable Leather
The production process guarantees a low environmental impact and a net reduction in disposal costs.
The leathers used are non-toxic, non-polluting and biodegradable certified:
Metal Free
Biodegradable and Compostable ISO14855 and ISO20136
Durability certificate equal to traditional leather
Certified compliant for color fastness and resistance to stress
LCA for the environmental impact
LWG
Technical features
Internal reinforcements:
Biodegradable with water bonding without solvents
Sole
Pure Hevea Milk, with a honeycomb structure for greater flexibility and entirely sewn on the shoe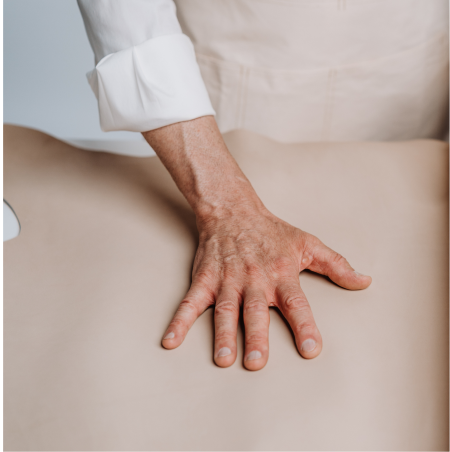 Lining:
Biodegradable Metal Free Leather
Insole
Corn fiber, antibacterial and anti-shock wool
Upper
Biodegradable Metal Free Leather
Lactea Hevea
The LACTAE HEVEA® sole is the result of the refinement of an entirely natural product, the hevea milk harvested at the heart of tropical plantations which are regularly maintained and constantly renewed.
No natural forest is cut down.
After 25 years of exploitation, the old tree is felled and a new tree is planted.
Traceability
DIS has its roots in the Marche region, a district of excellence for the production of footwear since the thirteenth century.
DIS produces only what is sold,
with materials of natural origin and raw material suppliers in an area of just 10 km, reducing C02 emissions by 30% compared to a normal shoe manufacturing company
Made in Italy in the shoe valley in just 10Km
1
Last making

Monte S. Giusto
2
Pattern design

Civitanova
3
Leather supply

Monte Urano
4
Cutting

Corridonia
5
Stitching

Corridonia
6
Lasting

Corridonia
7
Sole Stitching

Monte S. Giusto
8
Finishing and boxing

Corridonia
NFT pre sale
Buy the physical version of "Terra" and you will immediately get the NFT ownership of a unique, numbered and limited edition digital asset.
Only the first 100 customers will receive the numbered collectible video, a real digital artwork that you can decide to collect, seeing its value increase or resell on all NFT platforms worldwide.
What are you waiting for?
Pre order now your first made in Italy sneakers NFT.
Terra genderless sneaker
NFT version 100 €
+ Physical Version 299 €
399 €
Pre order now
for only
299 €
(0,12 ETH)
Size range EU 35-48
Before starting the production of your order, you will receive a free pair of sample shoes to confirm your size.
Pre order closes
April 30th, 2022
Delivery of physical shoes will start from June 1st, 2022
Free shipment for Eu and US, while it is not included for other destinations
About Us
DIS was born in 2015 in Italy, to give impetus to the artisan realities to create footwear that will last over time and that are produced only on request.
Today DIS has become an international reality present in numerous points of sale, tailored boutiques and department stores in Europe, the United States and Asia
---